How can I send money through Bahar Money Transfer Ltd?
You can send money by two ways: 1. You can come to our London office or Birmingham Branch to be registered first. Pay cash or by debit card. 2. You can fill our online registration form i.e. https://www.baharmoneytransferltd.co.uk/get-registered/ and transfer funds using our dedicated payment link at https://bahar-pay.co.uk/. You will need to send us your certified Identity documents before transferring funds. You can certify your documents using post office document certification services i.e. www.postoffice.co.uk/document-certification-service, or any eligible body. Alternatively you can first visit any of our branches regarding verification for your initial transaction and then can enjoy transferring from your account for future transactions by using our "Pay Online" services
Do I need proof of my Identification Documents?
Yes you will need to have your proof of ID regardless of any amount being sent. For transactions upto £3000 you will need to present Your Primary ID (Your Passport, Driving Licence, national ID card or any Government issued ID bearing your photograph, name and date of birth). For transactions from £3001 to £4500 you need to present your Primary ID and your Secondary ID (Proof of Address e.g. Utility bill not older than 3 months, council tax bill etc.) and for amounts greater than £4500 you will to present your primary and secondary ID, your bank statement or wages slip (Proof of Income) and for larger amounts you need to provide source and proof of funds along with a declaration form.
What documents are acceptable proof of ID?
As part of Bahar Money Transfer Ltd.'s customer due diligence measures, we must identify individuals. We obtain a private individual's full name, date of birth and residential address as a minimum. We verify these using current government issued documents with the customer's full name and photo, with a customer's date of birth or residential address such as: ● a valid passport ● a valid photo card driving licence (full or provisional) ● a national identity card ● a firearms certificate ● an identity card issued by the Electoral Office for Northern Ireland, etc…
What documents are acceptable for proof of Address?
A proof of address is a document that proves residential status of a person and should not be older than three months. The following documents can accepted as a proof of address. 1. Utility bills – Water, Gas, Electric, Phone (We Don't accept mobile phone bills) 2. Bank Statements/Credit card Statements. 3. Council Tax Bill 4. HMRC notification letter etc…
How much fee will I be charged for each transaction?
We do not charge any fee. We only take margin in the currency rate provided to you. Please ask for an updated rate for your designated currency being sent before placing your transaction.
How soon can the beneficiary gets their money?
Funds are available for collection the next day. If there is any emergency we may be able to process your transaction the same day provided that all KYC, AML and Due Diligence procedures are satisfied and approved by authorised personnel of our company. 
How will the beneficiary receive the money?
A beneficiary can collect their money from a number of designated payout locations and our partner banks in the receiving country. Beneficiaries are required to have their ID (e.g. Passport, Photo-card Driving Licence, National ID card, or similar depending on the laws and jurisdictions of the receiving country) for collecting payments from the designated payout location. They also need to fill and sign the payment receiving form.
Can I place a transaction to a beneficiary's Bank account?
Yes you can send money to a beneficiary's bank account and it will reach there in three to five working days depending on the receiving country. Sometimes it can reach quicker even the same day. Please ask about the delivery time of the funds to your desired destination's payout location or bank.
What does Bahar Money Transfer Ltd do to protect my information?
We ensure all your data is handled using encryption and is handled in the most secure way.
What can I do to protect myself from fraud?
We at Bahar Money Transfer Ltd take fraud very seriously and would advise you to make sure you know the person you're sending money to. Only transfer money to someone you know personally or whose identity you can personally verify. And if someone asks for money for a friend or relative in an emergency situation, do everything you can to confirm that the emergency is real before sending the money.
What if I have a complaint?
Complaint Policy: Our company is committed to delivering an efficient and professional service. We aim to provide prompt, courteous, helpful, open and informative advice in response to every approach made by a member of public. From time to time things may go wrong, and we may not be able to provide the Standards of Service that we have set ourselves. Such instances reported to us by customers provide us with an opportunity to put things right and to learn from our mistakes. Handling complaints quickly, fairly and helpfully is a key part of our approach to service delivery Should things go wrong, and we fail to provide the quality of service expected by our customers. We will endeavour to: • ensure that making a complaint is as easy as possible; • treat a complaint seriously whether it is made in writing by letter, via fax, email • or by telephone; • deal with it promptly, politely and where appropriate, informally (for example, by • telephone); • include in our response an apology where we have got things wrong, • an explanation of the position, or information on any actions taken. We shall make every effort to operate in accordance with the Financial Conduct Authority (FCA) and the Financial Ombudsman Service (FOS) complaint management procedures. We recognise that we have an obligation to Customers who are dissatisfied with our service to resolve any complaint within 8 weeks from the point of notification. If this is not possible for any reason then we will state our reasons for not being able to do so and propose an alternate completion date to the Customer. If we are unable to resolve the complaint within this timescale, or to the Customers satisfaction, or the Customer does not accept a deferred date, then such complaints may be eligible for consideration by the FCA or the FOS. We will provide full details of our complaints procedures to you upon your request.
How can I become a customer of Bahar Money Transfer Ltd?
1. Before you can make your transaction, you will need to be registered with us by visiting us in person at our offices either in London or Birmingham (Please see complete address in contact us section). you will need to provide your Identification documents for verification. 2. You can also register online and send us your certified Identification documents, certified by post office or by eligible body before placing any transactions.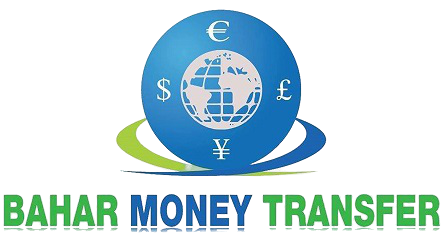 Bahar Money Transfer Ltd is a registered payment institution that enables people in the UK to send money abroad in a reliable, secure and cost effective manner.

45 Station Road, Edgware, Middlesex, HA8 7HX